Those of you who have been paying attention to robotic technology should know that the field has made major strides in recent years. In fact, never before could amateurs create the intricate designs that are possible nowadays due to major advancements in robotic technologies.
In the past, robotics was mainly accessible to young adults or children on account of the simplistic nature of robotic technology. Recent developments have made it possible for people of all ages to unleash their creative potential.
Over the next few minutes, we'll take a look at some of the most ingenious and accessible programmable robot kits for adults and find out more about what exactly constitutes a decent robot kit.
Top 5 Best Programmable Robot Kits for Adults
Although marketed as a beginners kit, this complex car kit allows you to create some pretty inventive designs – provided that you possess the craft and creativity.
For starters, the kit contains an educational STEM kit that includes assembly instructions and robotics knowledge along with possible integration solutions to support faster learning.
In this package, you get no less than 24 kinds of modules and parts, including obstacle avoidance modules, line tracking modules, infrared remote control, and even the capacity to control your creation via smartphone apps.
It should also be noted that the kit's many modules are easy to assemble and that each interface has been modified with Xh2.54 ports, adding to its accessibility.
Furthermore, the kit features a refined tutorial with HD rendering instructions on how to assemble various designs, including a preset car.
Features:
Features a comprehensive guide to help you through
All the parts are easy to assemble
An upgraded package design makes it easy to store
The user-friendly interface makes faulty assembly impossible
Pros:
Kit contains a powerful Servo Gimbal Motor with LED and tracking modules
Capable of Uart/WiFi communication
The obstacle avoidance modules make it easy to build cars
One of the best vehicle-oriented robot kits on the market
Comes with a fully functional Arduino board 
Cons:
The remote uses a lot of power
Featured software requires some getting used to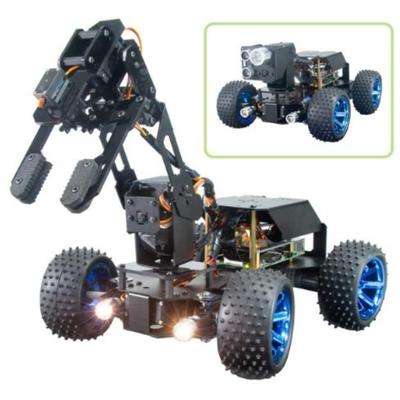 Available in two versions (one with a robotic arm and one with a flashlight piece), this versatile robot car kit enables you to create some pretty ingenious contraptions, provided that you have the craft and ingenuity.
As all kits usually do, this one also boasts multiple functions like object motion following, tracking, real-time transmission video, ultrasonic obstacle avoidance, and much more.
The sheer versatility makes it great for any skill level, from beginners to seasoned robotics experts, which is why the kit enjoys such huge popularity at the moment.
Compared to similar robot kits, the overall structure is very easy to assemble. Not just that, the added camera, the robotic arm, and the powerful light certainly add to the endless possibilities.
Also interesting is the fact that it comes with a very accurate ultrasonic sensor, which isn't something many robot car kits usually incorporate. This sensor allows the assembled unit to navigate any environment by carefully avoiding obstacles in its path.
Features:
Comes with a 4-DOF robotic arm
Features a responsive remote control
Has a visible OLED screen
Uses a strong aluminum body
Pros:
Comes in two versions, each with unique features
Includes a two-degree-of-freedom camera
Fully compatible with Raspberry Pi (not included)
Open source code compatibility with OpenCV and Python
Cons:
Servo installation needs some getting used to
The manual could be more comprehensive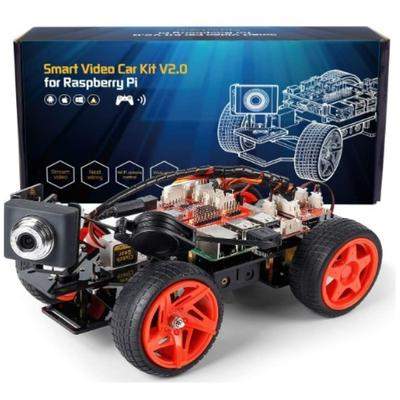 This kit from SunFounder is an excellent choice for beginners who want to expand their skills. Fully compatible with Raspberry Pi tech, you can customize and add an extra layer of functionality to your design.
The kit also features a wide-angle USB webcam that allows for real-time image/video transmission. This should allow users to come up with some pretty unique robots.
As all quality kits should, this robot construction kit comes with remote control and a UI that can be accessed either through a mobile device or through a PC.
Although marketed to young people, this makes a perfect kit for adults on account of the multiple comprehensive tutorials it comes with and the learning materials it features.
We should also point out that it features a well-protected Servo Motor that includes a power failure protection system for good measure. For those of you who don't know, servo motors are necessary for fluid motions and responsive changes in velocity and acceleration.
Features:
High-quality image transmission via wide-angle USB webcam
Multiple tutorials and learning materials to consult
Can be remotely controlled via UI
Features a Python code segment provided with the car
Pros:
Raspberry Pi compatible
Allows for real-time video transmission
Has a color recognition tracking code that you can use
The pieces are easy to assemble
Cons:
Batteries not included
Although compatible with RPi 4B/3B/3B+/2B/2B+, Raspberry Pi is not included.
The parts are quite small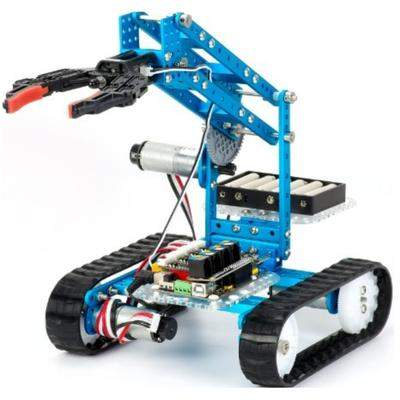 Comprised of no less than 550 mechanical parts and electronic modules, the Makeblock mBot Ultimate stands out as one of the best entry-level robotic kits out there.
The kit features a powerful MegaPi mainboard that includes synchronous drive systems, multiple motor controls, sensor reading, Raspberry Pi communication, and much more.
As you would expect from such a complex kit, it also comes with detailed instructions on how to make good use of its features.
The kit's block-based programming software enables users to program functions by dragging and dropping function blocks. This means that both experienced users and beginners can bolster their skills while using it.
Thanks to its affinity for Raspberry Pi and Arduino, the kit allows users to practice and improve their craft in a comprehensive and detailed fashion.
Interestingly enough, the kit comes with a Makeblock Orion board, which is a user-friendly mainboard, similar to Arduino Uno (with a heavy focus on education).
Features:
Equipped with a powerful MegaPi mainboard
Industrial-grade aluminum alloy parts
Features 550 mechanical parts and electronic modules
You can build 10 pre-configured robots
Pros:
Block-based programming allows for easy coding
Comes with a comprehensive guide and several tutorials
Can be connected with various plug-in modules and drive motors
Raspberry Pi compatibility is a big plus
Cons:
Doesn't have a remote control
Quite expensive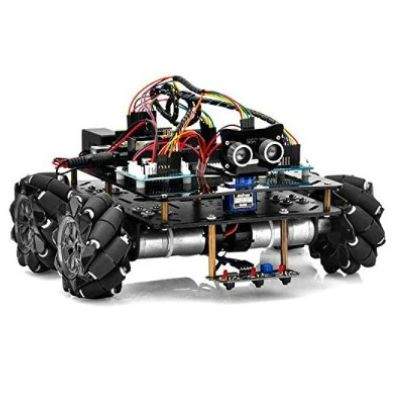 Packing 4WD Omni-directional wheels, OSOYOO's Mecanum Wheels Robot Car kit allows you to build omnidirectional robots capable of moving in any direction.
The resulting robot can be controlled via Android or iOS apps. It also enables you to control the robot through WiFi.
What's great about this kit is that it comes with many additional accessories like a sample project code, step-by-step instructions, and a basic tutorial with pictures to help guide you through.
With regards to the specs, the modules are capable of obstacle avoidance on account of some fairly complex integrated systems.
At the same time, the Mecanum wheels add a touch of value to the kit and are fitted with integrated rollers that move passively and independently.
Features:
A high-torque gear motor helps the robot navigate difficult terrain
The modules can be assembled with relative ease
The app works very well on both Android and iOS devices
You can control the robot remotely through the app
Fully compatible with Arduino (works great with Arduino Mega)
Pros:
You can use your robot as a WiFi hotspot
Can connect to mobile devices in many ways
Features like tracking functionalities
The app provides a steering wheel and gear for added control
Cons:
The speed encoders need some work
Few female connectors are provided in the kit
What to Look For in a Programmable Robot Kit for Adults
When you invest time and money in robotics, you invest in improving your understanding of the complex systems you interact with on a daily basis. As such, you want the programmable robot kit you choose to reflect both your skill level and your enthusiasm.
When buying a programmable robot kit, you want to pay attention to:
Complexity
Depending on your budget, you can get some pretty intricate robot kits. Although an entry-level kit will allow you to get some hands-on experience before getting to the more complex stuff, you'll definitely want to start using more complex kits as your skills develop.
Bear in mind that programmable kits require that you at least possess some basic understanding of coding and setting parameters, so you're going to have to show some willingness to learn a thing or two about coding and programming languages.
But if you're a complete beginner, have no fear! Many robot build kits come with a starter kit to help you gauge the exact level of complexity you can expect from the kit. It's best that you pay close attention to the kit's guidelines before you begin the actual assembly.
Versatility
You definitely want a kit that allows you to build complex designs, preferably one that features some form of app control and flexibility. 
If you have the opportunity, look for robot kits that allow for the building of multiple designs without sacrificing form to function or vice versa.
What's more, you'll want a kit that lets you build multiple complex robots, not just one. This tends to be the case with most high-end robotics kits for obvious reasons.
Accessibility
Speaking of high-end robotics kits, a decent kit should absolutely incorporate remote control features in the form of an app or a stand-alone remote.
In that regard, perfect robot kits tend to feature both a mobile app control system and a traditional remote, but don't expect this from every robot kit on the market.
On a related note, be on the lookout for kits that feature wireless modules or any other remote-controlled parts and modules.
Required Tools
A good robot kit should contain a control board, a battery, a pack of connectors, and all the necessary modules.
If it's a kit for beginners, it should also contain all the required tools and necessary equipment to assemble the modules.
Look for kits that include detailed tutorials and guides to help you along the assembly process. At the very least, they should direct you to an online tutorial that will offer additional support.
FAQs
How can I learn more about robotics?
To better understand the basics of robotics, look for robotics clubs, teams, or an online forum specializing in the subject. The next best way is to simply start building robots using entry-level robotics kits.
What is a programmable robot?
A programmable robot is a robot that you can program to perform specific functions and tasks. The actual programming can be done in a few ways depending on complexity and accessibility.
Can I program my own robot?
Absolutely. Provided that you have the know-how and all the required parts and equipment, you can 100% program your robot to perform a wide array of unique tasks. For the most part, this is done quite easily. You don't really need to be a robotics engineer or expert.
What do I need to program a robot?
Unless it's a highly complex robot, most robot kits should come equipped with everything you need to program a robot, including the source codes. However, it wouldn't hurt to seek out some basic programming tips before you get started.
All Things Considered
Finding decent programmable robot kits for adults shouldn't be that much harder than finding kids-oriented kits, especially if you know what to look for. It's a good idea to pay special attention to user feedback before you make your final decision. 
All in all, robot kits have come a very long way in recent years, and making robot kits is definitely a lot of fun!
Whether you're a complete newbie or a dedicated hobbyist, there's a little something for everyone out there.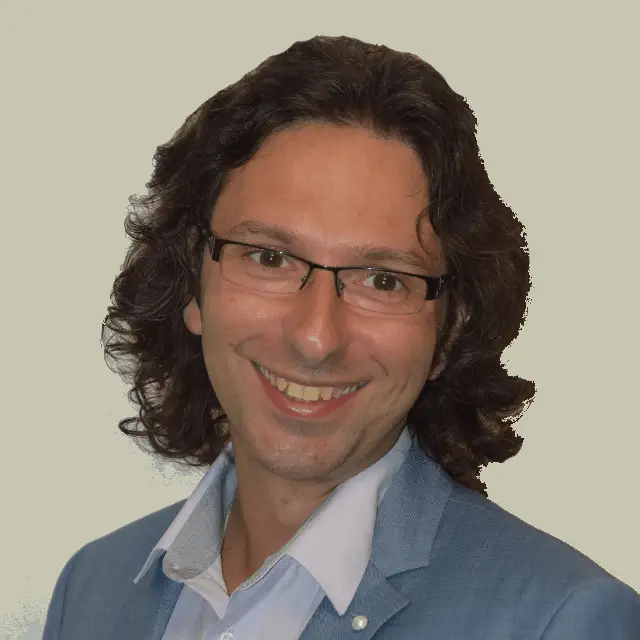 I'm a Software Engineer and Programming Coach. I want to help you in your journey to become a Super Developer!