Perhaps the main reason why people invest in robotic arms – apart from the fact that they're incredibly cool and ingenious – is the opportunity to further their understanding of robotics as a whole.
Many people want to use programmable robot arms as a gateway toward more advanced and intricate robotic designs, and to bolster their robotics skills in the process.
As we are about to find out, robot arms can differ from one another on account of their size, functionality, operational parameters, configuration, accessibility, and ingenuity. 
Let's take a look at some of the best programmable robot arms the market has to offer right now so you can get a better understanding of what's out there.
The Best Programmable Robot Arms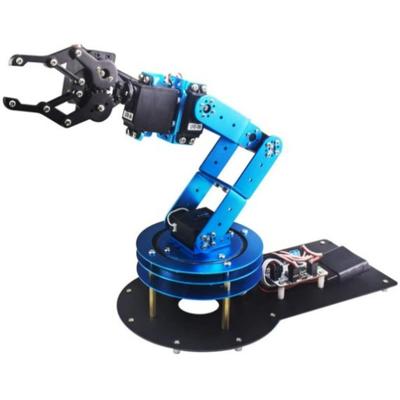 The first thing that should be addressed about this ingenious robot arm is its compatibility. In principle, this arm works with any Android/iOS device thanks to a well-designed app.
The arm also stands out through its fluidity of motion, which is guaranteed by its high-quality servo motors. These high-precision digital servo motors make the arm not only more responsive but also boost its overall control.
Speaking of control, the arm's kit also features detailed video tutorials to teach you how to best operate the arm, along with 3D videos that go over its capabilities in full detail.
Also worth mentioning is the arm's all-metal construction and metal mechanical claw. Paired with an aluminum bracket and metal larger bottom plate, the arm offers a sturdiness that few other robot arms can match.
As you would expect from such an ingenious robot arm, it also comes with Handle PC Software to help you integrate it into any elaborate assembly of your choosing.
Pros
Supports wireless handle and Android/iOS apps
Comes with tutorials and guidelines on how to use the arm
The metal construction makes it sturdy and durable
Has a 6-channel Bluetooth servo controller
Offers high-temperature resistance for the metal claw
Cons
It uses quite a bit of power
Remote control requires some getting used to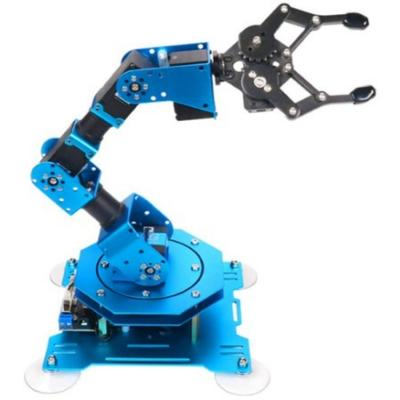 This robotic controller employs a powerful ARM core CPU that makes it a lot more responsive than most robot arms in this price range.
At the same time, the arm's built-in Bluetooth connectivity allows for a diverse range of control methods, although you are advised to use the Android/iOS app for best results.
Although it isn't an industrial robot arm, it is still powerful enough to grip heavy objects, and the grip will not lose its strength over time.
Because it uses a serial bus servo motor with angle feedback, this particular robot arm will function at optimal parameters for an impressively long time.
Also worth mentioning are the plug and play suction cup design and the simple wiring setup. This is guaranteed to make arm assembly a lot easier.
Pros
Features intelligent bus servos with position feedback
Its voltage feedback functions extend the arm's service life
Has wireless handle control support, which can also be accessed via APP or mouse control
Allows for three programming methods and manual action programming
Due to a suction cup design, it can be fixed on the table for added stability
Cons
The assembly is a bit demanding
The positioning of the wire connection is odd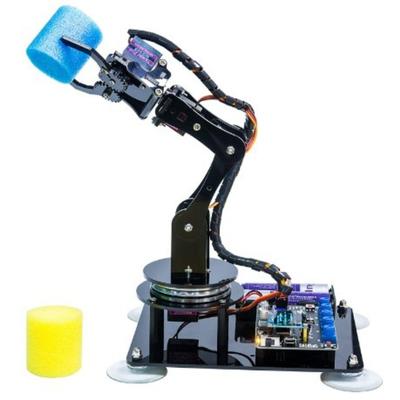 This isn't so much a robotic arm as it is an entire robot kit. As a complete robot kit, it incorporates not just the arm and its accessories, but an array of other modules that you can assemble any way you see fit.
Boasting the gripping power of high-end industrial robot arms, this somewhat smaller yet capable arm stands out through its sturdy and reliable construction.
At the same time, its basic functions are complemented by self-learning capabilities, a drawing function, and a system that imitates the user's desired motions.
As expected from a decent programmable robot arm, this one too comes with a learning tutorial. If that's not enough, know that the manufacturer also provides technical support for the arm in great detail.
The arm also allows for multiple control methods, including manual control, remote control, or the capacity to control the arm through an app.
Furthermore, the board can be controlled via Arduino IDE, Python, and a few other tools. Although versatile in that regard, people find Arduino to be the most viable as it also enables the user to expand their knowledge of the system.
Pros
It is fully compatible with Arduino IDE 
A 5 axis claw makes the robot highly flexible and reliable
Perfect for experienced users and for beginners who wish to bolster their robotics skills
It has a learning mode that allows it to repeat certain motions
An OLED screen indicates current states and remaining steps
Cons
Instructions could be clearer
WiFi connectivity is a bit slow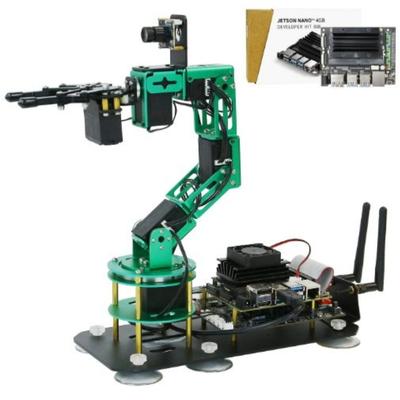 Without a doubt, this is one of the most technologically advanced robotic arms out there. Equipped with a camera that's capable of achieving FPV video transmission, the arm can recognize colors and specific gestures.
Thanks to a DOFBOT Motion Control feature, the arm can perform custom actions that you can reprogram via the arm's interface. 
Seeing how the arm has a 15 kg smart serial bus metal gear digital servo, it can negotiate the angle of each steering gear with great accuracy. In this regard, it may not be an industrial robot arm, but it certainly incorporates all the necessary functions of a much more intricate robot arm.
Speaking of intricate, know that the arm is easy to set up in spite of its complex design and that it can be controlled via a multi-function app with no limitations whatsoever.
Furthermore, once assembled, the arm can be controlled directly by connecting it to the network with a simple installation of its proprietary software.
Pros
Perfect for DIY users with basic Python programming knowledge
Easy to get started due to a comprehensive tutorial
Can be controlled remotely through a variety of methods
Motion control allows it to perform complex custom actions
Equipped with an HD camera that facilitates FPV video transmission
Cons
Quite expensive
Software is tricky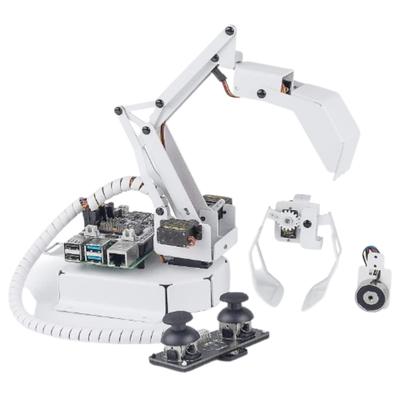 As the name would suggest, this robot arm features a shovel bucket and electromagnet along with a hanging clip. Both of them can be programmed to grip and move objects in a fluid and responsive fashion.
The robot arm's capacity to grip objects and work in tandem with the user makes it one of the best collaborative robots you can get in this price range.
It should also be said that this is a four-degree-of-freedom kit by design, which is an aluminum alloy design robot kit for Raspberry Pi (bear in mind that the Raspberry Pi, batteries, and SD card are not included in the package). The four-degree-of-freedom design also allows it to easily integrate within more complex assemblies.
As for the software, know that this robot arm supports both Python coding and SunFounder EzBlock. If needed, you can also control it via the app with a phone, tablet, or PC.
Also, know that it features a Robot HAT multifunctional expansion board that greatly improves the complexity of your design.
Pros
It comes with a speaker that can be used to play music or sound effects
The arm can carry objects as heavy as 130g
Its shovel bucket feature can be used to manipulate various items
Features electromagnetic carrying blocks that attract all types of iron pieces
Benefits from a four-degree-of-freedom design with Raspberry Pi integration
Cons
The remote control is a bit small
It can only grip small objects
What to Look For in a Programmable Robot Arm
Although there isn't a universal standard for what a programmable robot arm should be able to do, you should be able to use a decent one for a range of applications that require gripping and manipulating objects in a controlled environment.
With that out of the way, you can focus on determining what type of arm would best suit your needs. In this regard, you have to first understand what constitutes a decent robot arm and what features to look for when buying one.
Accessibility
While not the most important aspect to consider, you definitely want the robot arm to be easily accessible and easy to control. This is usually done via an app or remote control but it can also require the use of PC software.
CPU
The CPU of a robot arm (and programmable models in particular) determines the responsiveness and reliability of the robot arm when performing certain tasks. In this respect, know that many of these arms employ Raspberry Pi boards and CPUs.
Versatility
Let's be honest, nobody likes a one-trick pony. If you're going to invest in a robot arm, it better perform an array of tasks and functions. You also want it to incorporate the means to reprogram its basic functions to the extent that you can use it for more than what it was originally designed to do.
Software
With a programmable robot arm, you get to write the source code for whatever functions you want the arm to perform. This source code usually depends on the type of programming language the arm is using, which tends to vary from one robot arm to another.
Construction
Along with a sturdy and durable construction, you want a robot arm to incorporate all the necessary features that facilitate its use. Among them, suction cups that fasten the arm to the table, a sturdy metal base for added durability, and a resilient interface for good measure.
Components
For the most part, robot arms are commonly composed of controllers, arms, effectors, drivers, and sensors. Each of these components plays a specific role in the functioning of the device. The actual claw-like part is the only part that can vary considerably from one robot arm model to another. The rest are pretty generic in their intended utility.
Power
While most robot arms come with integrated batteries that require a regular power supply, there are some that may occasionally employ regular batteries. For the most part, however, each robot arm has its own external power supply.
FAQs
What does a robot arm do?
Among the most essential functions of a robot arm, it has the capacity to grip, spin, and weld. Know that robotic arms are often used industrially for tasks that would otherwise jeopardize human workers.
Can a robot arm help me learn robotics?
Absolutely. There is perhaps no better way to get into robotics than by employing a robot arm or a robotics kit to boot. Even the robot arms that come pre-assembled will teach you a thing or two about robotic patterns and assembly principles.
What operating language do robot arms use?
For the most part, robot arms use Arduino, Python, or Blockly (for graphical coding). More complex models might also make use of proprietary software from their manufacturers.
What types of robot arms are there?
The majority of robot arms are either mechanical, electronic, or hydraulic. Occasionally, peculiar robot arms may combine two or more elements depending on the arm's intended purpose.
Is there an age requirement for using robot arms?
Not really. While some might be inclined to believe that robot arms are nothing more than elaborate toys, the reality is that these devices can get elaborate depending on how much money you're willing to spend.
All Things Considered
When we talk about programmable robot arms, we refer to all the robot arms that incorporate coding and programmable features. In that regard, finding a decent model depends just as much on the construction of the arm as it does on the operational software it incorporates.
If you're a beginner to this craft, you should probably pick a robot arm with pre-set conditions and parameters. Over time, you will undoubtedly learn how to code your own parameters and issue your own set of instructions.
To be on the safe side, you should also consider getting a popular robot arm from a reputable manufacturer. Once you've familiarized yourself with using them, you can move on to designing your own setups.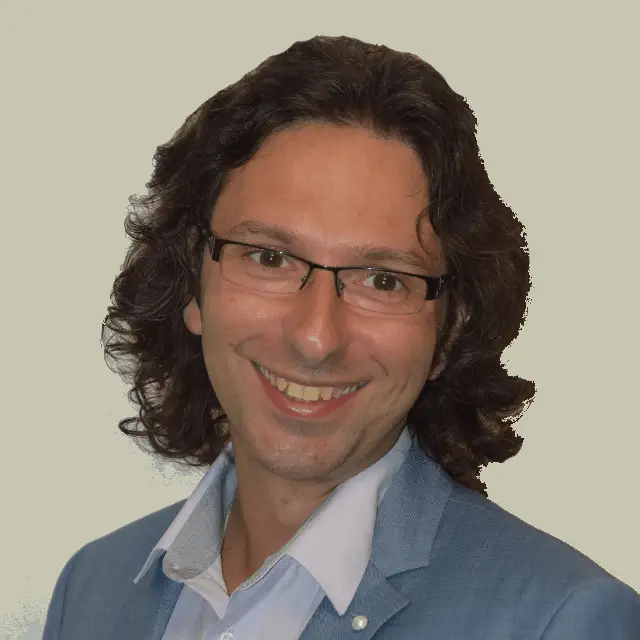 Claudio Sabato is an IT expert with over 15 years of professional experience in Python programming, Linux Systems Administration, Bash programming, and IT Systems Design.
With a Master's degree in Computer Science, he has a strong foundation in Software Engineering and a passion for Robotics with projects that include Raspberry Pi and Arduino platforms.