A Raspberry Pi rack mount is essential for companies and organizations to maintain web servers and host private websites and servers. They can also be used to backup systems, learn programming skills, home automation, build projects, and much more. 
If you want to use more than one Pi board, a rack mount helps connect several Pi boards directly using the hardware components. 
When you use various rack mounts with different boards, it becomes a Raspberry Pi cluster. They are affordable and come in handy for building a straightforward server. 
It also comes with GPIO pins that enable you to manipulate electronic tools for exploiting the IoT and physical computing. 
There are many uses and applications of a rack mount, so if you are planning to buy one, you should check out the following guide to find out which one is the best for you. 
Top 5 Raspberry Pi Rack Mounts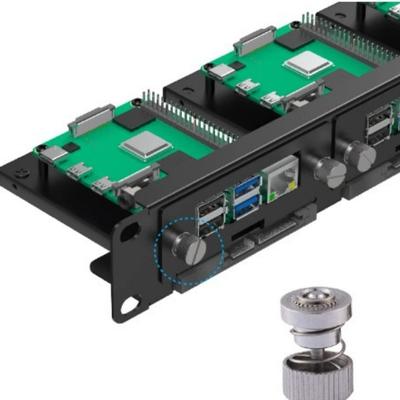 The 19" 1U rackmount is manufactured by UCTRONICS and is the upgraded version of the U6195. 
The UCTRONICS 19" 1U supports five Raspberry Pis and five SSDs, making it possible to increase the RPi cluster with massive network storage. This added feature makes it perfect for building a Raspberry Pi cluster. 
Specs and Features We Loved
Multiple slots: The rack mount has four slots to house various B/B+ Raspberry Pi boards and screws.
Compact size: It's a compact rack mount, measuring around 19 inches. You can fit it inside a 19-inch server rack, and it's compatible with 1U Rack Space.
Connectivity: It features eight slots for inserting inputs such as USB, LAN, and HDMI board.
Vertically racked mounts: Traditionally, rack mounts are supposed to fit horizontally. However, you can fit the rack vertically as well. 
Durability: It is made of carbon steel, giving it a strong and durable structure. Its corners are smooth and come in a black matte color. 
Who Can Use This Rack Mount?
The UCTRONICS 19" 1U Raspberry Pi rack mount is suitable for users who want to learn and develop a testing area for cloud apps. 
You can also build and develop home automation, media centers, and servers for your databases and web apps. 
Our Verdict About this Product
Overall, this rack mount is great if you plan to build a Pi cluster. It has four slots that support various Raspberry Pi mounts and eight extra slots for connecting USB, LAN, and HDMI cables. 
It is a durable and lightweight rack mount. If you are an amateur and want to experiment, this rack mount is for you. 
This particular rack mount will cost you around $60.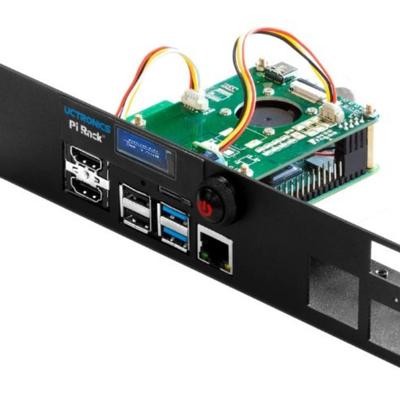 The Raspberry Pi 4 Rack Mount is another option from UCTRONICS on our list. The brand is popular and well known worldwide, so you can be sure you're getting a solid and trustworthy product. 
It's an ultimate rack packed with four OLED displays, cooling fans, four PoE HaTs, a full-frontal port, four HDMI rerouting boards, and four LED switches. 
Specs & Features We Loved
Excellent and strong quality: This rack mount is finished with a matte black color, and its edges are smooth. The rack's quality is strong and made up of carbon steel.
LED button: Unlike other rack mounts where you will have to enter a code or unplug the power cables, you can shut this one down directly by pressing the LED push button. 
PoE: You can power your Pis with the PoE switch.
Cooling fan: Avoid overheating with cooling fans that are installed on the rerouting boards.
Re-routing: All Raspberry Pi ports are situated at the front side of the rack mount. It includes four USB ports, full-size dual HDMI plugs, a MicroSD card, and an Ethernet port. The LED power button, LED indicators, and everything is located at the front. 
Size: You can use this rack mount with 19" 1U solutions. You will have to add a boot-up script to use the 0.91-inch OLED screen. It can read stats such as temperature, memory used, IP address, etc. 
Who Can Use this Rack Mount?
We recommend you get this rack mount if you want accessibility and convenience. All of its ports and I/O are situated all in one place. Also, the cooling fan eliminates overheating. 
Our Verdict on this Product
Overall, this rack mount is too good for its price. It does everything and will likely fulfill all of your needs. 
Usually, four PoE HaTs are expensive, but you get a great deal with this rack mount. The material and structure of this rack are sturdy and clean. The led switch button makes it easy to power off, and the cherry on top is the cooling fan. 
This rack mount costs around $149.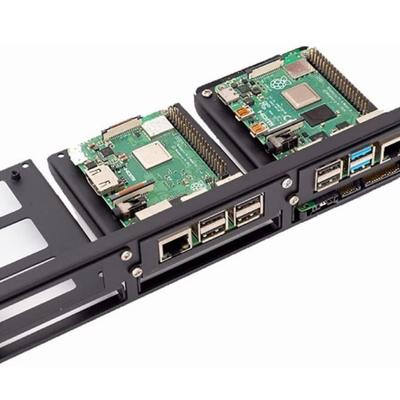 This one comes with five mounting brackets that can house all the B and B+ Raspberry Pi models such as 4B, 3B+, 3B, and more. Like the other two rack mounts, it is also a 19-inch rack. 
Specs & Features We Loved
Size: The size of this product is the average 1U size, i.e., 490×91.7×44 mm. It is compatible with all the 19-inch server rack mounts. 
Quality: It is made up of high-quality steel that is rust-free, durable, and sturdy.
Mounting brackets: There are five mounting brackets. You can remove the front. It supports all the B and B+ models. Also, you will be able to use a 2.5-inch SSD. However, the SSD isn't provided with the product. 
Weight: It is a lightweight rack mount, and weighs around 158.76 gm.
Who Can Use This Rack Mount?
This rack mount is perfect for you if you want to utilize various Raspberry Pis at once. You also get the option to use a 2.5inch SSD. It is affordable and a great product that will meet your basic needs. 
Our Verdict on This Product
This mounting bracket is affordable and sturdy. You can purchase it off of Amazon for around $29. 
You can fit up to five 2.5-inch SSDs with the basic mounting. The mount will not bend once you insert it into the rack. 
In some cases, the rack is a bit wider than others, and if you are willing to modify it, this product offers a great value. 
Check out the best 2.5inch SSDs on the market in 2022.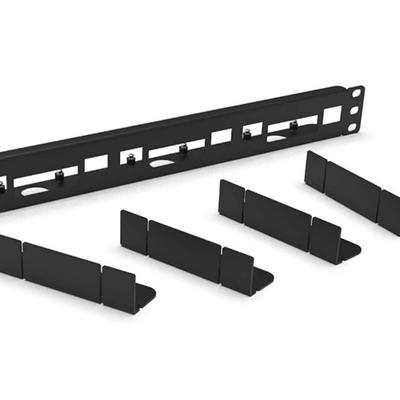 This specific rack mount is easy to install and suitable for Raspberry Pi. You can easily fit up to four units as the rack mount screw and four snap-off covers are included with the product.
It supports all the B and B+ models and spaces to fit two connectors or inputs. 
Specs & Features We Loved
Size: This rack mount is a standard rack mount and is compatible with all the 19-inch rack solutions. 
Four slots: There are four slots, which means you can fit up to four units of Raspberry Pi. The models of Raspberry Pi that you can fit are 1 Model B+, 2 Model B, 3 Model B, 3 Model B+, and 4 Model B.
Snap-off: You can also find four pieces of snap-off with this product. You can easily open and close any slot in the rack mount. 
Inserts: There is also space to insert two inserts or inputs. You can use micro HDMI, USB-C, USB3, Audio, or LAN connectors. 
Who Can Use This Rack Mount?
Users who want to connect their Raspberry Pis and different connectors such as micro HDMI, LAN, etc., should consider getting this unit. 
You also have the option to close and open and slot in the rack mount. If you want to try different combinations, this is for you.
Even if you want to use one Pi board, you can easily cover the rest of them with the snap-off. 
Our Verdict on This Product
If you want to choose your own Raspberry Pi rack mount design, this is the perfect product for you. You can easily create a Raspberry Pi cluster case and have the option to connect different inserts. 
The MyElectronics Rack Mount is spacious, and you can insert anything you want. It's priced on Amazon for around $54.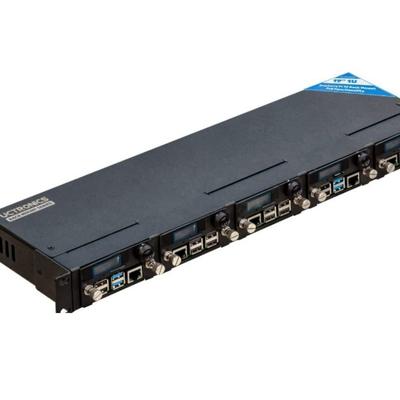 This is the third entry by UCTRONICS on our list, and it caters to all your needs. 
The rack mount is the successor of the Raspberry Pi 4B version. Not only is this product better, but it also offers next-level features. 
A mounting bracket has been added to easily remove the Raspberry Pi from the front. You will no longer need to deconstruct the whole rack mount. 
The PoE HaT is separated. That's why you will not have any problem with Mode A and B switches. 
It has 5 0.91-inch OLED, 5 PoE Hat, 5 SD Card Adapter, 5 Power Button, and supports Pi 3 and Pi 4. 
Specs & Features We Loved
Durability and size: This rack mount can fit any 19-inch cabinet easily. You will not need to modify it. The entire structure has also been upgraded and the rack mount has been infused with metal, making it sturdy and strong.
Easy setup: The installation and setup process is easy. You can fit it independently, and the OLED power buttons are already installed. 
Upgraded fan: There is little to no noise with the new fan. It is more long-lasting and durable. 
Re-routing: It comes with rerouting boards, mounting plates, and PoE functions. You can find all the ports and switch at the front. 
Who Can Use It? 
If you want a sturdy product and do not want to waste time assembling your rack mount, you should buy this product. 
The installation is simple. Most of its extra features like the power button, LED, etc., are already assembled.
Our Verdict on This Product
Overall, this is one of the best rack mounts on our list. Due to the fact that it has so many features, it is also the most expensive one on our list. The Amazon price is $269.99.
What Should You Consider Before Buying a Rack Mount?
There are a variety of factors you should consider before buying a rack mount.
Don't Overstretch Your Budget
Before you get yourself a rack mount, you should set an amount that you are comfortable spending. There are many affordable, and mid ranges rack mounts that can fit all of your needs. So even if money is tight, you can still get a good rack mount. 
Connectivity Issues
If you want to connect inputs such as micro HDMI, USB, LAN, etc., buying a rack mount with the feature to connect inputs is crucial.
Frequently Asked Questions
What is a Raspberry Pi?
A Raspberry Pi is an affordable and compact-sized computer. It functions by connecting to a monitor or a TV screen. You can use a mouse and keyboard with it. 
What are the Alternatives to Raspberry Pi?
There are various alternatives to Raspberry Pi:
1. UDOO Bolt V3
2. ASUS Tinker Board SR2.0
3. Odroid N2+
What is the Advantage of a Pi Network Node?
A Pi network node is affordable and easy to use. Moreover, you do not require much information to connect one component to another. 
Closing Thoughts
There are tons of rack mounts available on the market. We've carefully chosen the best five Raspberry Pi Rack Mounts that fit your needs and budget. 
All in all, we recommend the UCTRONICS Ultimate Raspberry Pi 4 Rack Mount. It's a "bang for your buck" product.
It has everything from PoE HaTs to cooling fans to LED switch buttons. You can also find all your ports at the front, making it extremely accessible. 
We hope our guide will help you buy the best rack mount.
If you want to learn more about Raspberry Pi, click here.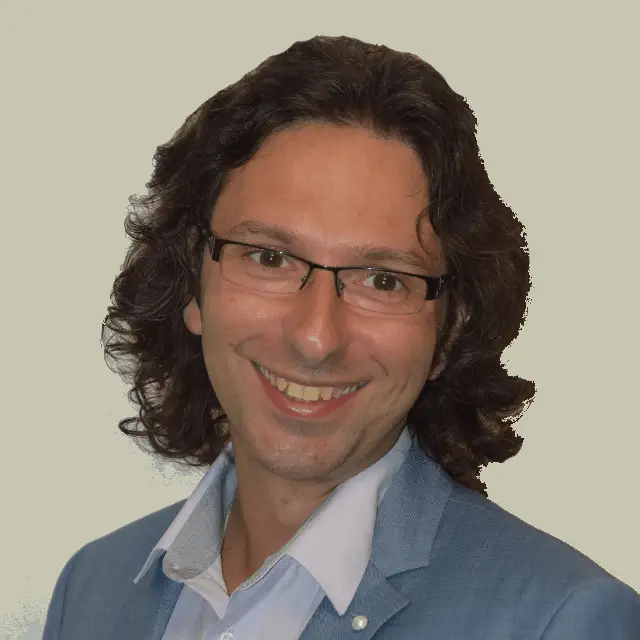 I'm a Software Engineer and Programming Coach. I want to help you in your journey to become a Super Developer!