If you're looking for an interesting and unique gift for your kids, you might consider getting them a Ruko Smart Robot.
For those of you who don't know, Ruko Smart Robots are interactive robots that incorporate technologies such as RC controls, apps, programmable actions, voice commands, and more.
Packed full of interactive features, a Ruko Smart Robot can interact with children of all ages in a constructive and highly entertaining manner.
What's more, the robot's functions are fully customizable depending on your specific needs.
In this article, we'll take a look at some of the best Ruko Smart Robots available on the market to help you decide if this is the right toy for your child.
Top 5 Best Ruko Smart Robots
The Ruko Smart Robot can be fully controlled via phone app, remote controller, or voice commands.
The app supports 56 different actions in total, with up to 200 edits on the user's part, allowing for quite a bit of versatility in the robot's actions and responses.
Thanks to an integrated Bluetooth speaker, the robot can also act as a mobile speaker capable of playing music or communicating with the child based on specific sound cues.
What's interesting about this model is that the robot can express its "feelings" on a LED face using different emojis. This paired with the robot's 9 flexible and powerful motion motors, gives this toy a unique and life-like persona.
The Ruko Smart Robot for Kids is FCC and CPC certified, meaning that it's entirely harmless to anyone who interacts with it.
Features:
Intelligent controls suitable for children of different ages
Different programmable actions
Simulates human performance to an impressive standard
Both CPC and FCC certified for maximum safety
Pros:
Bluetooth playback capabilities
Features touch-sensitive sensor on the head that responds to stroking
Built from skin-friendly ABS materials
Cute emoji display for an expressive persona
Cons:
A bit pricey
Older kids may find its motions repetitive
With up to 50 motion combinations available, your child's imagination is the limit for this fully programmable robot. This includes some pretty impressive dance moves as well.
The robot also features an infrared controller that supports gesture sensing. This means that the robot will respond to your hand movements and perform the desired action – turning left or right, sliding, or walking in any direction.
The Ruko 6088 not only dances but also sings via a built-in speaker with a volume control gauge that you can adjust wirelessly as you see fit.
Powered by built-in batteries, you can charge the robot through a USB interface and get up to 120 minutes of entertainment with just 1-2 hours of charging time.
Although built to please children of all ages, you'll find that children aged 3-6 will get the most out of the experience due to the robot's colorful interface.
Features:
Fully programmable actions
Capable of singing and dancing to certain beats
Easy charging, it takes about 90 minutes to fully charge
You can control it remotely via an infrared controller
Pros:
LED emoji designed to draw attention to the robot's face
The robot can not only walk but slide too
Made from ABS plastic, the robot is quite durable and strong
It can also tell stories via its Bluetooth speaker function
Cons:
Quite small in size
The limbs are rather thin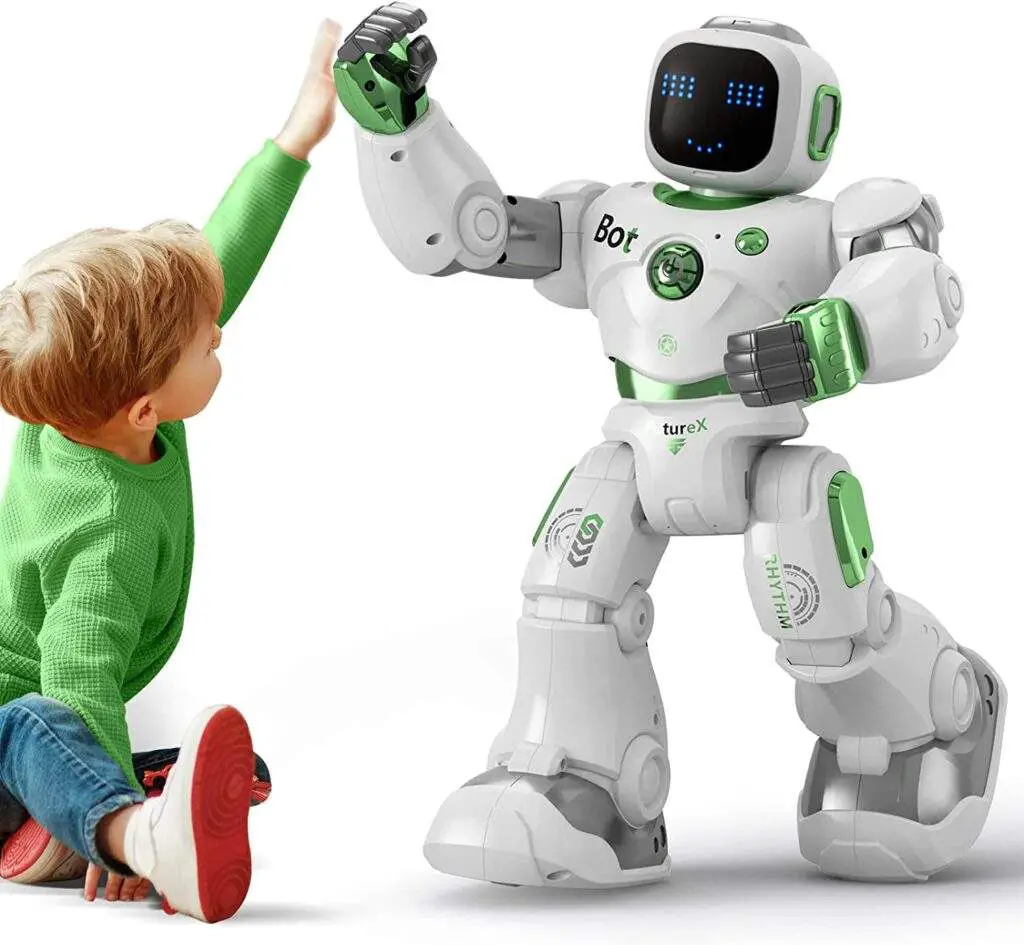 Accessible and versatile, this robot can be controlled via remote control, phone app, or voice commands depending on your preferences.
It also supports 58 various actions with up to 102 modifications that can be preset, an option that greatly improves the robot's accessibility.
The robot has 9 joint motors which ensure that it moves with near-perfect fluidity and comes with 48 emoji expressions, giving it plenty of personality.
We should also point out that the robot is quite large. Measuring 15×11 inches in size, it is one of the largest smart robots on the market, one that dwarfs robots with similar specs.
This model incorporates a wide range of functions meant to inspire children via dance moves, gymnastic motions, singing songs, and telling stories.
Features:
Four unique ways to control the robot
Can perform 58 actions and allows you to recalibrate them
Very flexible movement on account of its 9 joint motors
Impressively sturdy construction for added durability
Pros:
Supports Bluetooth speaker playback
Can tell stories and sing
Features gravity sensing controls
Has a touch sensor and responsive recording functions
Cons:
The controls take some getting used to
Can be difficult for children to operate
This ingenious robot is designed to emulate different kinds of emotions through an expression animation processor system that simulates real human emotions.
Fitted with a large LED screen, the robot provides comprehensive interaction, conveying rich and meaningful expressions to the child.
The screen itself is made with non-toxic, high-grade ABS plastic with rounded edges and corners. You can also adjust the screen's brightness for added comfort.
The smart voice controls allow the device to articulate words clearly and better facilitate the child's interaction with the robot.
Furthermore, older kids that own smartphones can control the robot's movement via the robot's phone app. Alternatively, they can accomplish the same thing through the robot's joystick.
Features:
A deformable yet sturdy construction 
Smart voice controls that articulate words clearly
Complex app control over the robot directly from your phone
Programmable to meet anyone's specific needs
Pros:
Can be controlled through the app or via voice control
You can connect it to any device via Bluetooth
Capable of singing and dancing in a complex fashion
The robot can walk steadily in any direction
Cons:
A bit small
Quite heavy despite the diminutive size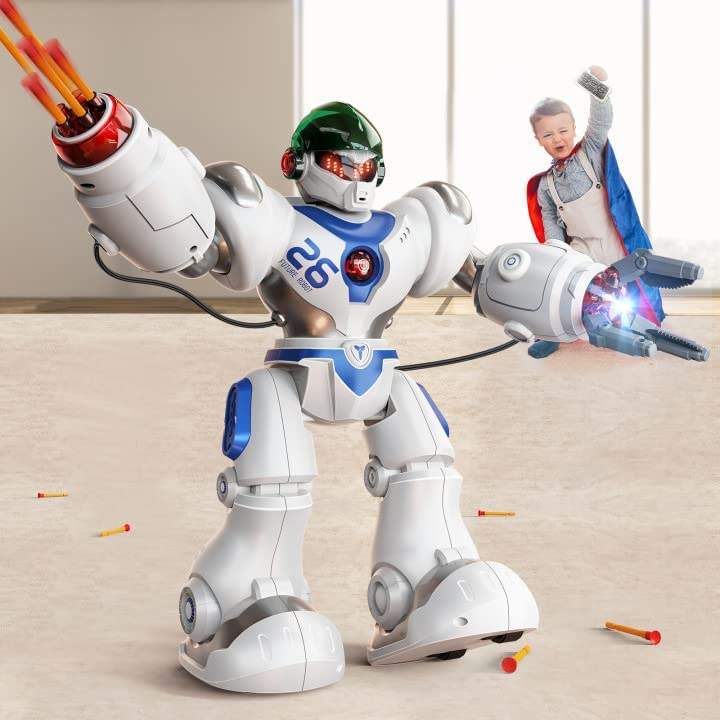 Equipped with an ingenious gripper arm, this particular robot can perform an array of interactive motions, including but not limited to throwing darts, manipulating small objects, and even launching projectiles.
Overall, the robot supports no less than 50 motion combinations that you can control directly through the remote control.
At the same time, its 'Shoot and Battle Mode' is guaranteed to provide your kids with hours of continuous play due to the robot's capacity to interact with objects from around the room.
The robot can also play songs, speak, and perform cool dance moves if prompted to. These serial actions are built into the robot's operating system but can also be adjusted via its interactive interface.
Features:
The Shoot and Battle Mode allows for endless hours of fun
Features 50 motion combinations that you can access via the remote control
A built-in speaker allows it to play songs and even speak
Gripper arm that can interact with objects from around the room
Pros:
Large and durable construction bolsters its durability
Has LED emojis that can display a range of expressions
Slide and walk modes for added mobility
Features a USB rechargeable battery
Cons:
A bit pricey
Comes with a limited amount of darts
Ruko Smart Robot Buying Guide
Although smart robots and other interactive technologies differ in their overall build and integrated technologies, you can expect the vast majority of them to meet the same functional standards.
For starters, every model will feature a reliable battery with consideration given to the item's dimensions and mobility.
Another thing to remember is that even though Ruko-made robots stand out with their smart features, their success still relies on people's understanding of how to operate them.
In this regard, you could judge a good robot based on specific parameters:
Programmable Features
First and foremost, an interactive robot has to incorporate programmable features. This refers to movement, device integration, playing music, interaction with foreign objects, and so on. In fact, some of the best robots out there stand out through their versatile interface.
It's worth noting that programmable features are the source of the most asked customer questions. People want to know if a smart robot can be adjusted to perform a certain way around their children.
Because children are the target audience for these robots, a robot that can move and dance with relative ease can be a friendly companion to any kid during their developing years. It is also why most of these robots have age ratings printed on the packaging.
Device Integration
Another thing you want to pay attention to when buying an interactive robot is whether it will pair with a smartphone or tablet. This is usually done via Bluetooth and it commonly works with most smart devices.
Lacking any complicated actions, you want the robot to at least play music and tell stories via integrated Bluetooth speakers, which needless to say, require a good device integration system.
Fortunately enough, most Ruko smart robots benefit from some type of phone app control features that not only allow the user to control the robot's movement but also its integrated speakers.
The Battery
It goes without saying that such intricate machines have power consumption requirements to match. For the most part, these robots include rechargeable batteries that you can power through USB cords or adapters.
You should also pay close attention to the remote control and the controller battery it employs. A robot's remote control distance of operation relies on how much power it uses, although most of these remotes use standard AA batteries.
Mobility
Since most of these robots are designed to move their limbs in complex patterns, you should expect a certain accuracy of movement from all but the most basic models.
Although very few of them can emulate human movements to a realistic standard, they should at least move in a believable fashion to entertain small children.
Speaking of children, the child's experience should be of paramount importance when looking for a smart robot, mainly their ability to interact and how children might respond to the robot's movement.
Programmable Features
Some of the best interactive smart robots out there allow you to not only control the robot through user-friendly interfaces but also to recalibrate the way the robot moves and behaves.
You will find that high-end smart robots allow you to alter everything, from the movement of their limbs to the feelings they display on the LED face.
At the same time, decent robots will also allow you to choose or even change between several dance moves, including the famous moonwalk that all the early models used to do.
FAQs
How Expensive Are They?
You can expect your average Ruko Smart Robot to cost between $80 to $200 for a decent model. That said, high-end models can go well beyond the $300 margin.
Does a Ruko Smart Robot require any software updates?
Not really.
For the most part, these robots use integrated proprietary software that requires no input or update from the user. The same cannot be said about the control app which may require occasional updates.
Are They Durable?
Because most of these robots are designed to be used by children, you can expect them to be fairly durable and strong. On average, most Ruko robots are built using ABS plastic and derivates.
Is There An Age Limit?
Market research shows that 4-9 years old boys make up the bulk of the users. That said, there aren't any gender or age restrictions for Ruko Smart Robots.
All Things Considered
If you're looking for something to keep the children entertained at family gatherings, you should look into buying a Ruko smart robot for the little ones in your life. 
These robots are entertaining for children of all ages, and there's no limit to how much fun a robot toy can provide for anyone involved.
Compared to other kids-oriented products you can get for a similar price, a robot toy is sure to justify the investment in the long run on account of how entertaining, versatile, and educational it can be.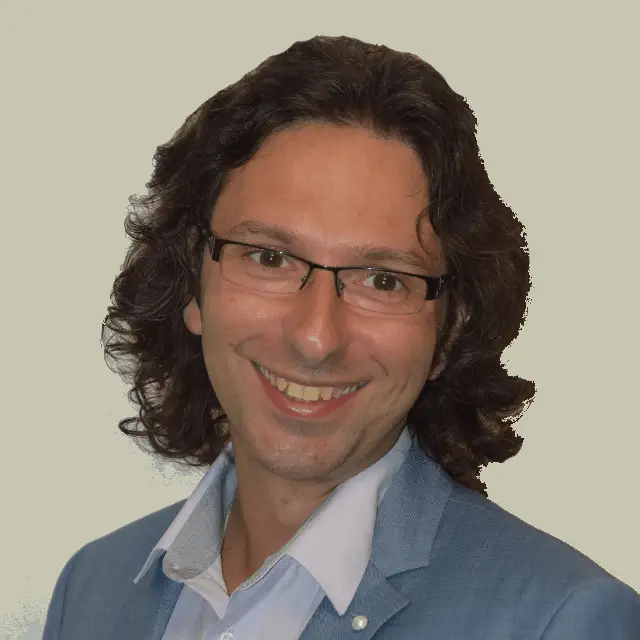 I'm a Software Engineer and Programming Coach. I want to help you in your journey to become a Super Developer!