Technology seems to advance at lightning speed, and nowhere is this more evident than in the exciting developments surrounding robotic dogs for kids. 
From technological marvels that can engage with their owners through interactive dialogue to simple mechanical models designed purely for cuddles, robotics has opened up an entirely new realm of possibilities for children around the globe.
This post will review some of the best robotic dogs for kids.
Top 5 Robotic Dogs for Kids
The Usmart Remote Control Robot Dog Toy will delight and entertain your kids for hours. Built from robust ABS plastic, your children can safely play without worry as it is shatter-resistant, non-toxic, and has rounded edges.
With up to 100 programmable actions that range from walking, dancing, and singing, this fun pet robot dog captivates with its amazingly fluid movements.
The remote control allows kids to direct this robotic pet in every direction they desire while its heart-shaped eyes emit a soft yellow light that adds a touch of endearment.
Pros
100 programmable actions
Made with high-quality materials
Durable
Shatter-resistant
Safe for kids
Cons
Expensive compared to alternatives
The Fisca Remote Control Dog is an interactive toy that any child would love!
With seven voice commands and a remote that can control all of its movements, this robotic pup makes for hours of imaginative play. 
In addition to its ability to make sounds and movements and interact with your child, the Fisca can also be programmed to perform various actions. This robot puppy can also perform three dances with kids during musical playtime! 
Built with high-quality plastic and a smooth surface, children can enjoy hours of fun without ever worrying about skin discomfort or injury. 
The toy is powered by a 3.7V rechargeable battery and two 1.5V AAA batteries for the controller. It's truly the perfect companion for kids looking for hours of unlimited fun!
Pros
Made with high-quality materials
Performs light shows, songs, and dances 
Durable
Safe for kids
Cons
It makes noise
The battery only lasts for a short time
The Okk Robot Toy Dog is designed with convenience and safety in mind, with rounded edges, BPA-free construction, and dual batteries for quick and easy replacement.
Not only can you let your robotic pup chase after you or perform up to seven different voice commands, but you can also customize its behavior by changing the volume.
Whether you want a quiet companion or something louder, this toy has everything you need for endless entertainment.
Pros
Made with high-quality materials
Durable
The dual battery provides non-stop play for your child
Adjustable volume 
Safe for kids
Cons
It does not support voice commands.
The SONOMO Remote Control Robot Dog has advanced features and you can program up to 100 commands for it to follow, including sitting, standing, and singing. 
When dance mode is selected, it grooves to rhythmical tunes. For extra fun, press the sing button and watch the toy perform a children's song with accompanying actions. 
It has a rechargeable battery power that allows it to be ready whenever you are  – just don't forget to remove it and recharge it when needed! This pup is sure to keep you entertained for hours at a time.
Pros
100 programmable actions
Durable
Made with high-quality materials
Shatter-resistant
Safe for kids
Cons
The rechargeable battery must be removed and charged
The LEXiBOOK Power Puppy robotic dog is true to life, able to move in every direction and respond to commands. Kids can play with it by teaching it various tricks like "sit," "lie down," "sit up," "beg" and "say hello." 
This robotic pup looks incredibly cute and alive through lights, sound effects, and interactive LED eyes. For those looking for more engagement, the Power Puppy will even bark numbers if desired! 
Best of all, the robotic features are not limited to those that come packaged with it. Users can teach the robotic pup new dances and movements through a training function. In addition, the "Follow-me" feature is on hand so that wherever your child goes, their robotic puppy friend will go too.
Pros
Programmable actions
Follow-me function
Durable
Gesture control
Made with high-quality materials
Shatter-resistant
Safe for kids
Cons
Expensive compared to alternatives
Factors to Consider When Buying Robotic Dogs for Kids
Safety
Safety is of the utmost importance when looking for a robotic dog for your child. Not only should you check to ensure that the toy meets all current safety standards, but you should also check for any reviews related to the toy's durability. 
Some robotic dogs are made with higher-grade materials that are more resilient and less likely to break apart or have pieces come loose. Do your research and be sure there have been no reports of choking hazards or recalls. 
Educating yourself on these safety concerns will help ensure peace of mind and secure an enjoyable experience for your young one and their new robot pet!
Battery Life
Battery life should be an important factor when buying a robotic dog for a child. After all, what good is a robotic pet if the playtime and fun are cut short because of weak batteries?
When selecting robots for kids, check out the battery life and find out how long playtime can last between charges. 
Researching user reviews of different robotic dogs can also help understand the pros and cons of different products. Don't wait until you have the toy in hand to find out about battery life – make it an informative part of your selection process when shopping for your new electronic best friend.
Charge Time
Charge time is essential for robots – if the battery runs out in the middle of playtime, your child will be disappointed! 
Many robotic dogs have quick recharge times, but it's always important to read the specifications to know exactly how long it takes to charge up before purchasing. Ensure your child has enough time to enjoy their robotic friend between charges.
Level of Interaction and Commands
When buying a robotic dog for kids, parental involvement is key. Consider how the dog operates to ensure levels of interaction and control are suitable both for the child and the parent.
Different models provide different commands and allow kids to ask the robotic dog simple questions or give commands such as "sit" or "stay." 
Some robotic dogs also respond to basic voice commands, fostering a strong bond between the robot dog and its user. Furthermore, parents should look into what kind of information is sent back to the manufacturer about the interactions between the robotic dog and their kid.
Budget
One of the main drawbacks to a robotic dog may be the price tag — some robotic dogs can be quite expensive. However, affordability does not necessarily mean sacrificing quality. Finding an affordable robotic pet that won't break the bank but still offers plenty of features and functionality is possible. 
Whether you are looking for a wow-factor gadget or a realistic pet companion, options are available on any budget.
Functionality
When buying a robotic dog for a child, it's important to consider its functionality.
Will it respond to voice commands?
Will it perform simple tricks?
Can it record messages and play them back? 
Answering these questions will help ensure that the robotic dog is fun and interactive. Look into how sturdy the construction is, how intuitive the controls are, and if extra accessories or batteries may be required. 
Manufacturing Material
When considering which robotic dog is right for your kids, one of the most important factors to consider is the material from which it is constructed.
You'll want to ensure that what you buy is made with strong and reliable materials so that your little ones can enjoy their robotic pup for years to come without worrying about breakage or malfunction.
High-grade metal rods and strong synthetic parts are essential when selecting a robotic dog, so don't skimp on quality – invest in a model that will last!
Durability
When buying a robotic dog, durability is an important factor to consider. Kids are active creatures that love playing, and they will inevitably put their robot pup through its paces.
Buying one constructed with quality materials and designed for maximum robustness will ensure your little one can enjoy playing with their robotic companion for countless hours without worrying about it breaking on them quickly.
Warranty
When purchasing a robotic dog for kids, it's important to think carefully about the warranties that come with the product. See if the company has a clear, no-questions-asked refund policy and technical support available when needed. 
Seek out companies that have been in business for at least five years and have a good reputation for honoring warranties. Also, the higher-priced models of robotic dogs often come with better warranties, so investing in one of those saves you some trouble down the line if your children discover any mechanical issues or defects in their product.
FAQ
What is a robotic dog?
A robotic dog is designed to look and act like an actual canine. They are becoming increasingly popular among people who don't have the space or ability to keep a real pet but still want to experience owning a dog.
Robotic dogs come equipped with various sensors which allow them to interact with their environment and many even include facial recognition software. 
While traditional robotic dogs can generally perform basic tasks such as barking, walking, or playing fetch, more advanced models offer self-navigation, communication with humans through voice recognition, and even learning of tricks without explicitly being programmed. 
What are the benefits of a robotic dog for kids?
Robotic dogs are a great way to give children the companionship and benefits of having a pet without all the hassle of walking, grooming, and feeding. Kids can enjoy playing with the robotic dog while developing their sense of responsibility. 
Being able to program certain commands into the robotic dog helps kids develop problem-solving skills, while its autonomous behavior can teach them how different things interact in the world. 
Some robotic dogs even respond positively when kids talk to or pat them, making them feel connected with the robot.
The fact that a robotic dog never needs to sleep or get walked is an appealing aspect for both parents and children alike, ensuring that kids who may not usually be able to have a real pet can still experience one.
How do I choose the best robotic dog for my child?
When picking the perfect robotic dog for your child, you have so many options that it can be overwhelming. To ensure your child gets the maximum joy from their new companion, start by considering their age and interests. 
For example, younger kids may love a basic model that moves around and barks when triggered, while older children may appreciate a more sophisticated robot with more complex functions. 
Consider additional features you'd like to see. For example, touch sensors for responding to petting, interactive games, and programmable behavioral settings. The possibilities are endless! 
Research all the robots on the market and read reviews carefully before purchasing. With the right robotic pup, your child will be entertained for hours – furry and friendly without all the mess!
Conclusion
Robotic dogs are a fun and interactive way to introduce kids to robotics and technology. We have reviewed the top five models on the market, so parents have a great selection of choices for finding the perfect fit for their child. 
Kids will love how responsive robotic dogs can be — not to mention that these tech-savvy companions require very little maintenance.
Whether you're looking for something that moves or barks, there is sure to be an option to meet your family's needs. Robotic dogs are giving parents and kids yet another reason to bond — technology is bringing people closer!
For more information about robotic toys for kids, check our articles on the top 5 best Ruko Smart Robots and all you need to know about a smart robot car.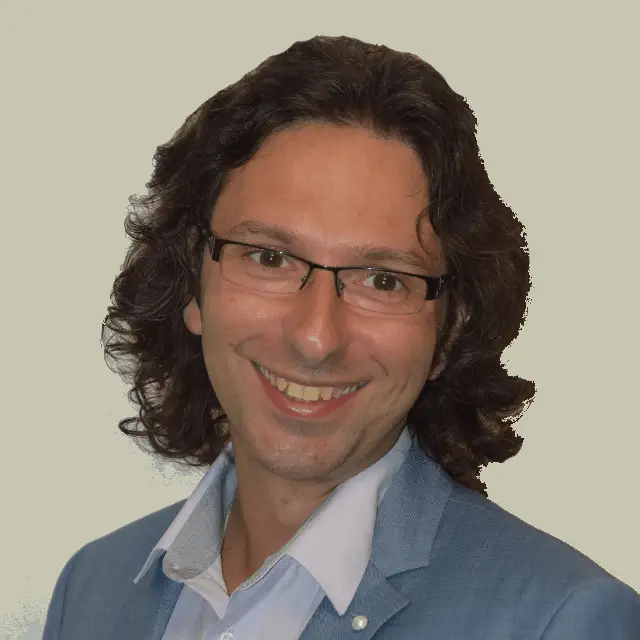 Claudio Sabato is an IT expert with over 15 years of professional experience in Python programming, Linux Systems Administration, Bash programming, and IT Systems Design.
With a Master's degree in Computer Science, he has a strong foundation in Software Engineering and a passion for Robotics with projects that include Raspberry Pi and Arduino platforms.