Learning a new skill like computer programming has become a lot easier in recent years. 
There are numerous online courses where you can participate in unsupervised learning, allowing you to acquire new skills. With so many options, how do you decide which is best for you?
Consider participating in some of the courses for sale from Datacamp. 
Below we look at the various Datacamp Courses now available and why investing in this learning platform could help you get involved in a field that pays good money to those with the relevant skills. 
What Is DataCamp?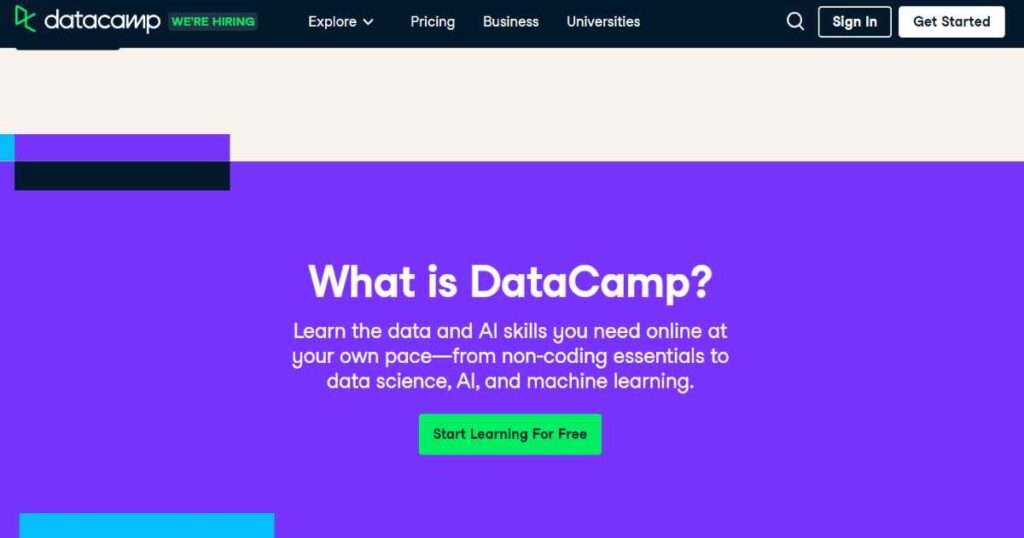 Founded in 2013, DataCamp is one of the leading online platforms for learning data science. The courses and exercises help beginners as well as more advanced students to learn key data science concepts, track and master their skills and forge a career in this industry. 
Plus, the online community helps further to provide advice and assistance when needed.
At DataCamp, they provide courses for anyone interested in learning more about Python programming and data science skills.
Overview of DataCamp Courses 
As the need for data scientists grows, the need to learn such skills is also increasing. The main aim of the courses and learning plans provided by DataCamp is to make these skills accessible to anyone who wants to learn. 
Interested learners can start their journey in this field and learn even more as they progress.
DataCamp offers two kinds of training programs: skill tracks and courses for individuals. 
Each of their skill tracks comprises a breadth of coursework that covers each subject in a lot of detail. They also provide valuable access to expert courses that focus on specific topics. 
You can begin by taking their introductory course before moving on to each skill track, providing you with more detailed knowledge of each topic. 
Learning 
Each course consists of interactive courses, tests, and exercises to see how you are progressing. You also have the opportunity to practice what you are learning through daily challenges. This allows you to apply what you have learned to be able to create actual projects. 
You'll find the DataCamp Community to be a helpful resource since it offers you access to more detailed tutorials, podcasts, and cheat sheets.
Pricing 
At first, you will be provided free access to the first chapter of all of the courses that DataCamp offers. 
To fully access each course, including the challenges and live coding environments, you must sign up for one of the various plans they offer. For example, the Premium Plan (the most popular) will cost you $39 per month. 
With the Premium Plan, you can access 80 plus real-world projects, Power BI, Tableau, and Oracle Support, their priority support facility, and real-world datasets. 
What You Get When Signing Up for DataCamp Courses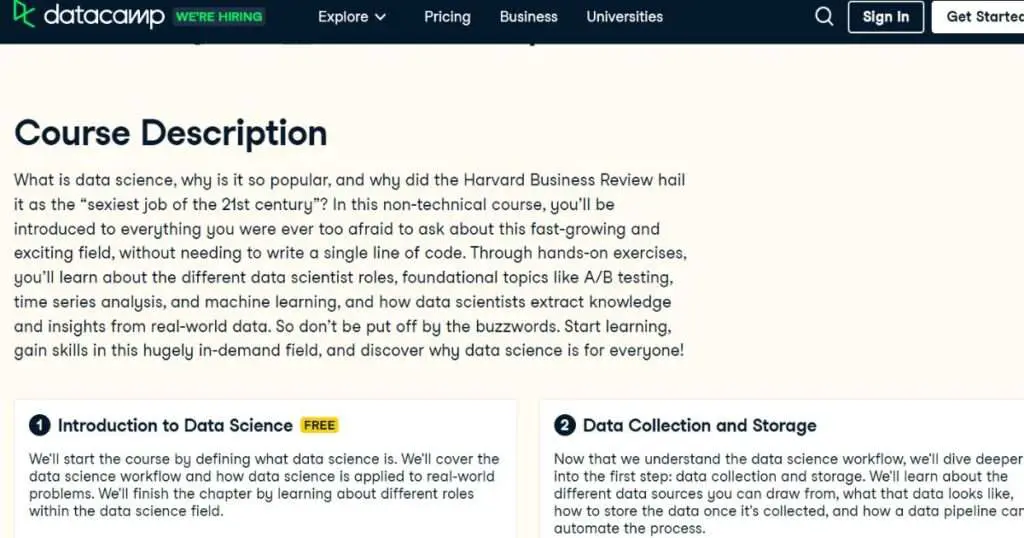 Here we take a brief look at what you get when you choose to sign up for any of the courses that are for sale on DataCamp: 
Courses
They include short courses that you should be able to complete within 4 hours. Each course has guidelines to ensure that you can apply what is taught quickly as they provide accurate insights into each topic. 
Each course comprises four chapters and will consist of between 3 and 4 lessons. Plus, each course will include between 44 and 60 coding exercises. 
Chapters
The first chapter will be concise, which helps to set the tone of the course. Courses will often consist of 3 lessons and between 8 and 12 coding exercises.
The following chapters will include between 3 and 4 lessons, and each will include 10 and 16 exercises. 
Lessons 
The actual lessons include a video that you will need to watch. The video is then followed by 2 to 4 exercises and some real-world projects. 
As part of the lessons, you will find either one multiple-choice or multiple-choice with a console exercise. 
You must complete the exercises since this will help you better understand what you need to do to carry out what you've been taught. 
Another thing to note is that each of the lessons for the various courses has been written by a different expert in a particular field. As a result, teaching styles vary from one course to another, but this ultimately makes for a much more enjoyable learning experience. 
Instructions
You will find that the instructions provided in these DataCamp courses are concise. The instructions are made up of 1 to 4 bullet points to help enhance your machine-learning skills. This helps to ensure that you are limited to the number of things you are required to do to complete any of the exercises you are carrying out. 
Coding Exercise Instructions
They keep the instructions for the lines of code exercises concise to ensure that you don't end up with a sub-optimal learning experience. 
By including too much information, many people need help concentrating on what they must do when carrying out coding exercises. This is why DataCamp courses keep it simple. 
Iterative Exercise Instructions 
Through these exercises, you will probably find that you are learning through repetition. This is also because DataCamp has created visually appealing iterative exercises that ensure they provide a consistent experience throughout each course.
Drag & Drop Exercise Instructions 
As with the other exercises discussed in this article, these will have between 1 and 4 bullet points for you to refer to.
It is important to note that drag & drop exercises will comprise between four and ten exercises. 
Multiple Choice Exercise Instructions 
Like everything else, DataCamp has worked on keeping all instructions as concise as possible. When it comes to completing these exercises, you will find that each of the possible answers will be made up of 10 to 300 characters.
Multiple Choice With Console Exercise Instructions
The instructions for these exercises are the same as for the multiple-choice ones. Again the answers you will provide will be between 10 and 300 characters. 
DataCamp limits the actual number of conceptual exercises you need to complete. Each course will comprise at most 6 of these; at most, three are multiple-choice or multiple-choice with console exercises. 
Doing this helps to ensure that you learn as much as possible when doing them as part of the coding exercises. 
They have chosen to include multiple-choice exercises where you need to carry out some coding in the console, which will help you identify a solution and remember new concepts by practicing them.
What Does DataCamp Offer?
This online learning platform allows you as a student to help build up your data skills at a pace you feel comfortable with. 
You will notice that the courses provided by DataCamp focus mainly on programming languages such as Python, SQL, and R. Still, they also offer you training in other tools, including Excel, Git, Power BL, and Tableau. 
However, they also offer non-coding courses that relate to BI tools, data science, and machine learning. 
Through Datacamp, you are provided with a hands-on learning experience. Plus, you're provided with regular skill assessments that will allow you to see how you're progressing. 
If you choose to go with DataCamp, you'll find that there are more than 350 different courses you can select from that revolve around ten different technologies. So, being able to find a course that suits your skills and needs shouldn't prove difficult. 
Why Consider Signing Up For DataCamp Courses?
Time Commitment 
If you don't have the time to spare to be able to attend regular classes to learn data science, this course will prove ideal for you. This is because you do the training at your own pace. 
This flexibility means that you can decide when and where you do your training. It enables you to fit the lessons into your life so that you can be sure you have the time to dedicate to concentrate on each part of the course.
Also, lessons are usually quite short. This is great because you can progress with your knowledge on a daily basis without having to invest too much time.
Curriculum 
Upon completion of the courses, certification is provided. You will be asked to work on real-life projects, which you can then use to build a portfolio to show to potential employers. Each part of the curriculum allows you to practice what you have learned. 
As was previously mentioned, each part of the course is made up of short tutorials and video lessons.
Included is an online platform called Practice Mode. This is a great feature that provides immediate personalized feedback concerning each exercise you complete so that you can see how well you are doing. 
Online Community 
Anyone can access the actual main community page provided at DataCamp. This is great if you are still deciding if you want to sign up for any of the courses they offer. 
If you want to access their Slack chat feature, you must sign up for one of their paid plans. 
FAQs
Are DataCamp Certificates Worth It?
The only reason for getting these certificates is to show that you have gained the skill, knowledge, and hands-on experience to show potential employers what you can do. 
How effective is DataCamp?
If you want to learn the basics of R, SQL, or Python, signing up for DataCamp courses is worth it.
As well as providing you with real-time hands-on experience to use your newfound data science skills, they make courses that are straightforward and easy to understand.
Is DataCamp worth the Money?
Signing up for either of their plans is worth the money as long as you are then willing to dedicate time and effort to complete each course you choose to work on. 
This interactive platform provides you with numerous comprehensive courses that revolve around various subjects relating to data science. 
Plus, throughout the time you use this platform, you'll find that all courses provided have their content updated regularly.
Is DataCamp better than other courses?
You will find that the courses offered by DataCamp are much better than others available. This is because they only use experts in the chosen fields to provide the necessary lessons.
They also offer a good selection of training exercises along with real-time projects that will help to enhance your skills further. 
Let's Wrap Things Up 
Anyone interested in starting a career in data science must have the relevant skills. 
One of the best places to begin your journey to a new career as a data scientist is by investing time and money in DataCamp. 
All their courses, especially R and Python coding programs, are considered among the best. As well as their courses being ideal for anyone who wants to pursue a career in data science, they are also suitable for executives and managers. 
The platform is pretty diverse and focuses on helping anyone who joins it build their data skills. 
You must sign up for one of their paid plans to access all the courses offered. You then can begin your journey to enjoying a new career in the data science field. 
Plus, upon completing each track, you are provided with a statement of accomplishment that will enable you to show any potential employer what you can do. 
They also offer discounts to those who pay their yearly subscription fees. This can prove quite handy when you begin your pursuit of a career in data science. 
We hope you have found this article helpful and look forward to hearing how you are getting on with your training on the various DataCamp courses.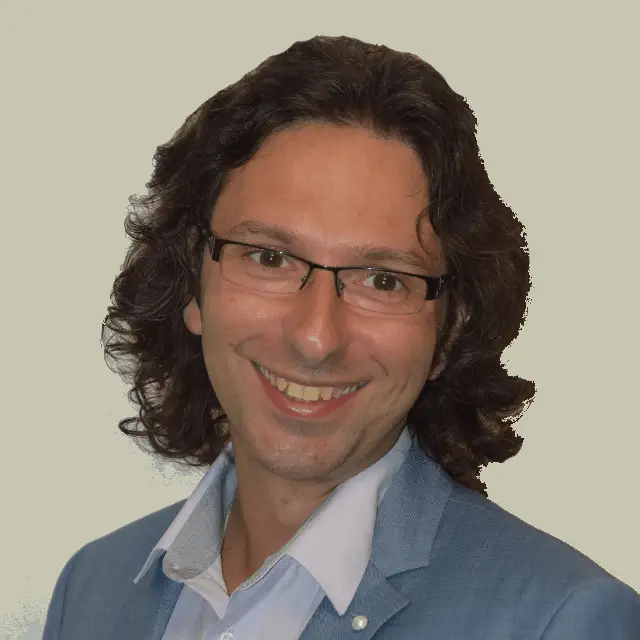 Claudio Sabato is an IT expert with over 15 years of professional experience in Python programming, Linux Systems Administration, Bash programming, and IT Systems Design.
With a Master's degree in Computer Science, he has a strong foundation in Software Engineering and a passion for Robotics with projects that include Raspberry Pi and Arduino platforms.