Data analytics is a booming field. And, according to the U.S. Bureau of Labor Statistics, it'll only continue to grow for the foreseeable future. Aside from the fact that it's a very interesting space to operate in, the median salary for specialists in industry data fields is about $82,326.
All of this makes an analyst job in tech truly worth pursuing right now. However, to ensure that you have an edge in this increasingly competitive space, there is a wide range of in-demand data skills and in-demand tool sets you have to master first.
This is where finding the right data analytics bootcamp comes into the picture.
Finding the right bootcamp data analytics program for you gives you the foundational skills, professional skills, and in-demand industry certifications you need to stand out.
It complements your previous experience, adds to your portfolio of projects, and gives you a much-needed advantage over your counterparts.
These online classes also offer premium exposure to the latest array of technologies and software systems in the field. This ensures that your skillset remains relevant and you can have your pick of most analyst jobs.
With this in mind, we'll be taking a look at some of the best remote learning programs you should consider taking if you want to get your dream job in tech!
The 5 Best Data Analytics Bootcamp to Land an Analyst Role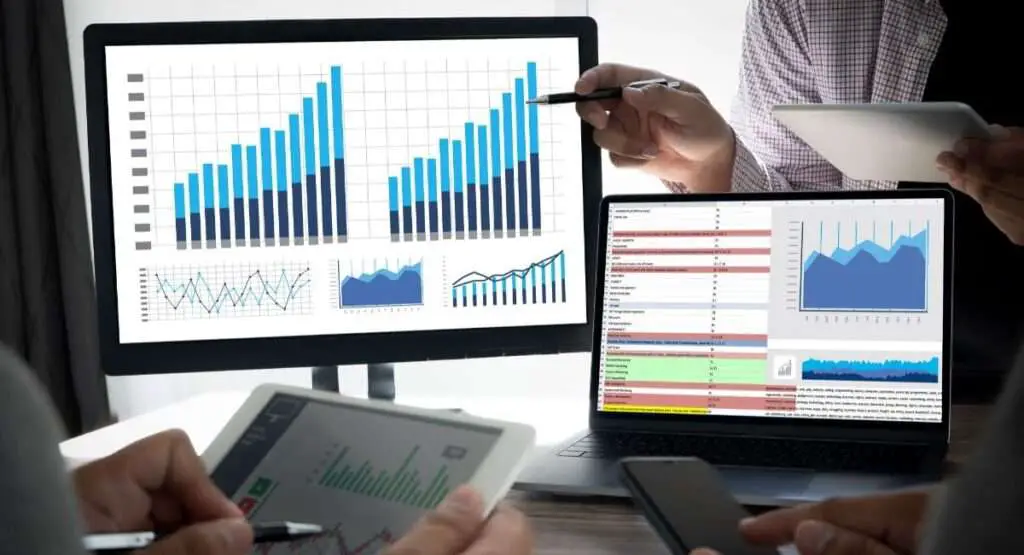 There are many decent remote learning programs and virtual classes you can try out. At the same time, only a few offer the class hands-on experience as well as relevant tools and technical skills that you need to further your analytics career goals.
Making the wrong choice here wastes your time and resources. That's why you have to be very particular with your decision-making.
To that end, we've identified some of the very best analytics training programs put together by the current most skilled instructors.
Each of these learning paths offers actionable insights, and encourages structured thinking. It will give you the resources you need to ace mock interviews first and the real deal afterward.
Are you interested in building specialized skills in data analytics without previous experience? The IBM Data Analyst Professional Certificate bootcamp is arguably the best place to get started.
Put together by Rav Ahuja, a world-leading dedicated career director, this bootcamp is a self-paced and dynamic program that offers you a strong foothold in data analytics.
This part-time online data analytics program follows a unique online learning format. It exposes you to the relevant information in this branch of the tech industry without overwhelming you.
This is the ideal data analytics boot camp for students interested in seriously pursuing a career in this space without negatively affecting other aspects of their lives.
The reason for this is the flexible schedule of the program. You'll get to use real-world data to grasp complex projects and concepts relating to in-demand topics and still be able to fulfill all personal obligations.
IBM Data Analyst Professional Certificate's analytics bootcamp curriculum is scheduled to run for 11 months. Students receive less than three hours of online classes each week.
Beyond the sufficiently small class time, this program assumes no prior knowledge of data analytics on the part of the auditor and takes a foundational teaching approach. This effectively broadens your student experience and assures you more value on the whole.
You can also apply for this program regardless of whether or not you have a college degree. The major prerequisites for this professional certificate are:
a desire to learn
elementary computer literacy skills
a strong affinity for working with numbers
And, if english isn't your native tongue, the virtual classes provide premium-quality subtitles in 11 other languages, including French, Korean, and Arabic. You can master the principles of data analytics and manipulation in your preferred language.
In addition to exposing you to fundamental programming languages like Python and Excel, you'll also be exposed to impressive data visualization application projects. Through this, you'll be able to slowly grow your analytics experience.
This online data analytics course will also introduce auditors to key aspects of supervised and unsupervised machine learning as well as artificial intelligence (AI) development.
The program interest form for this bootcamp data analytics course is currently available at zero charge, and interested students are also eligible for financial aid.
By the time you finish this program and get your certificate of completion. You'll be competent and confident enough to start applying for the thousands of in-demand tech jobs out there.
Benefits of the Program
It adopts a fundamental and innovative instruction approach that fosters easier learning.
The program leverages real-world examples. Students are introduced to practical applications of data analytics from the beginning of the course.
It's an ACE® recommended program, so completing it can earn you up to 12 college credits.
It introduces fundamental statistics and popular programming languages in practical and easy-to-understand ways.
It offers auditors maximum latitude over their virtual classes. This ensures that they can pick up the skills they need without shirking their personal obligations.
It's one of the most in-demand certifications for junior data analysts currently.

Google is undisputedly one of the biggest names in the tech world. That's why it should come as little surprise that they offer some of the best real-world training programs for people actively seeking a tech career.
Like most of their other programs, the Google Data Analytics bootcamp breaks down the intricacies of this field into simple and easily digestible chunks throughout a sufficiently comfortable timeframe.
You'll only be expected to put in 10 hours per week. On that timeline, you'll complete the program and be qualified for an associate data analyst role in less than six months.
One thing that makes this part-time online data analytics program stand out from other learning paths and certification exams is that it's considerably more budget-friendly.
This merits consideration for students who don't want to stress over the details of tuition costs or a payment plan. But even at its price, you'll still get all the exposure you need to tackle key business questions in interviews.
After eight courses and 180 hours of class time, you'll be able to efficiently manage all the processes and practices necessary for success as a junior data analyst. You'll also acquire vital in-demand skills like data cleaning and learn how to perform interactive data visualizations.
Your student experience during this course will also extend to learning how to prepare data for analysis and executing calculations and analysis in complex projects. Auditors will also be introduced to basic concepts in strategic thinking.
Finally, you'll also learn how to present your data-driven insights in the most interesting ways. During this process, you'll become intimately familiar with the art of presentation and using several visualization platforms and tools.
This online data analytics course will help beginners in this field pay more attention to key details like data ethics, real-world problem-solving assessment, and critical thinking. Auditors will also get hands-on experience with relevant programming tools like Spreadsheets, R Programming, and SQL, to mention a few.
There will also be academic assessments each step of the way, usually in the form of multiple-choice critical thinking questions, projects, and practice quizzes. This is to ensure that students fully grasp all the concepts that the data analytics program is throwing at them.
By the end of the course, you'll be more than qualified to get a decent entry-level data analyst job in tech.
Benefits of the Program
It has a very straightforward enrollment process.
It doesn't take as much time per week to complete.
It introduces students to the practical application of numerous visualization tools.
It offers various crucial tools for furthering a career in data analytics.
It introduces students to simulated real-world datasets and scenarios critical for success in the field.
This data analytics bootcamp is a little different from the other entries on our list so far. Not only is the timeframe for the completion of the course considerably shorter, but the program itself is essentially a preparatory guide for individuals who are considering getting an online master's degree in Computer and Information Technology from the University of Pennsylvania.
As such, the course is remarkably short and to the point.
Although you have complete control over how and when you take the course, you should know that this program spans just three weeks and takes approximately 17 hours to complete. Also, you get a certificate of completion when you finish the program.
So, you'll not only add to your repertoire of data analytics skills. You'll also get to build a more comprehensive portfolio of projects in the process.
It's worth noting that the course only offers subtitles in English and Korean. Also, you'll need high school or college math-level skills at the minimum to get the benefits of this program.
In addition, prospective auditors are expected to have taken and passed the "Introduction to Python Programming" course. A working knowledge of this Coursera course (or its equivalent) is necessary because you'll need a fundamental knowledge of Python programming language for this bootcamp.
Once these requirements are met, auditors who complete the Data Analysis Using Python course will know how to use the popular programming language to execute basic data science techniques.
Also, slightly advanced topics and concepts like Data Frames, using NumPy, matplotlib, and other data analysis libraries will be covered at length. There will also be practical demonstrations on how to load, inspect, define, query, and analyze real-world datasets.
Auditors who complete the program will also acquire in-demand skills necessary for efficient data aggregation and summarization. Students will be introduced to the basics of data visualization.
Even treated as a standalone course, this program is an invaluable tool for individuals who want to land on their feet upon entering the field of data science. It complements foundational programming experience excellently and builds on that to make auditors more grounded in data analytics.
It also encourages strategic thinking and helps students explore and develop their data and business intelligence.
Benefits of the Program
It has a very short completion timeframe.
Auditors have full control over their class time and can use the flexible deadlines it is to their advantage.
This bootcamp data analytics program explores the practical applications of Data Frames and industry-standard data analysis libraries in detail.
It offers a wide range of graded quizzes and programming assignments that auditors can use to enhance their data analytics skills.
It highlights key details in real-world data loading, inspecting, and querying.
It's directly affiliated with a high-profile tertiary institution. This lends more weight to the quality of the certificate of completion.
This is yet another way to have an exciting time while you learn data analytics. All exercises in this 51-hour bootcamp directly or indirectly lead auditors towards mastering Power BI.
Hailed as one of the best business intelligence tools in operation right now, understanding the intricacies of this system can open doors for you in your tech career.
The 18 different courses students will be covering in this program mainly feature hands-on practical sessions designed by expert instructors to intimate you with all the relevant functions of this powerful tool.
At the end of this program, you'll be able to easily use Power BI to do everything from import and clean data to manipulate and prepare it in the most visually effective manner. The best part of using these learning paths is that you don't need any previous experience to get started.
The foundational teaching approach employed here ensures that you'll be able to successfully master concepts like Power Query, statistical modeling of data, Data Analysis Expressions (DAX), and several other Power BI functionalities without consulting any other resources.
In addition to equipping you with the right resources to start your professional voyage in data analytics, leveraging this program also entitles you to a 50% discount for your Microsoft PL-300 certification. 
This offers you an even better platform to launch your business analytics career!
For students who want to be ready to apply for data analytics job postings as quickly as possible, this budget-friendly, fast-paced, dynamic program offers the perfect outlet for you to explore!
Benefits of the Program
It's budget-friendly.
It focuses extensively on one of the most relevant tools in the tech industry at the moment. Hence it amply prepares you for entry-level business analyst jobs.
It offers a very hands-on learning experience.
It comes with a discount for Microsoft PL-300 certification.
The program can be taken with zero prior experience.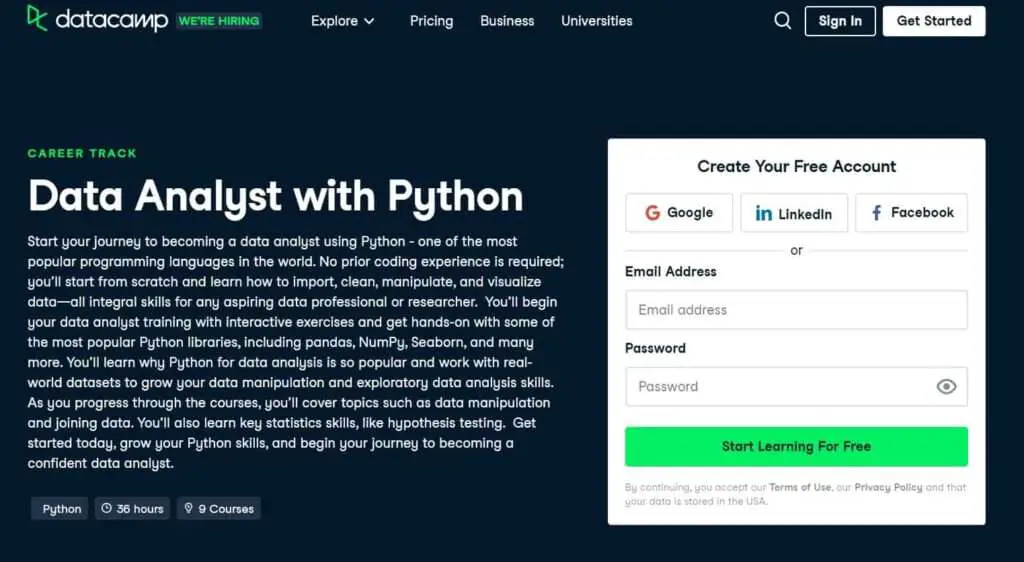 Just like machine learning, knowledge of Python has been proven to be a must-have tool in data science. Sadly, even though it's a beginner's programming language, it can be remarkably challenging to pick up for many aspiring data analysts.
However, Data Analyst with Python ditches the conventional approach to this highly popular programming language. It offers a fresh new take on it that makes this skill even easier to acquire.
Even without any experience whatsoever in programming, you can leverage this program to make significant strides toward your dream job as a data analyst.
With this bootcamp, you can boost your understanding of Python and enhance your professional skills. By the end of the 36-hour program, you'll be able to import, manipulate and use data visualization techniques.
The highly interactive sessions and professional environment fostered by this course will also increase your aptitude for using Seaborn, pandas, and various other major Python libraries.
The fact that this course also introduces auditors to real-world projects that demand high logical reasoning from the get-go makes it that much more effective.
Beyond giving you that much-needed real-world experience, you'll also get one of the most in-demand industry certifications with this program.
Benefits of the Program
It introduces Python programming in a new and different way.
It explores all the popular Python libraries exhaustively.
It has a relatively short completion period.
It can significantly increase the data manipulation and exploratory skills of students.
It uses real-world examples with great aptitude.
Other Programs We Considered
Columbia Engineering Data Analytics Boot Camp
Berkeley Data Analytics Boot Camp
Rice University Data Analytics Boot Camp
University of Denver Data Analytics Boot Camp
Data Analytics Boot Camps – What They Are
Data analytics boot camps are short and intensive training classes designed to help both beginner and experienced individuals acquire specific data skills.
These resources are both relevant and essential because the tech industry is constantly growing, and professionals need an efficient way to keep up with these developments.
How to Choose the Perfect Data Analytics Bootcamp in 2023
Even outside the content of the data analytics program itself, several things strongly influence whether or not a bootcamp is right for you. Taking these variables into consideration when making a decision can increase the quality and value you get out of the course.
So, before choosing your next data analytics bootcamp, here are some elements that should inform your final decision:
Your Specific Goals
The tech industry is a huge space. As a result, there are several paths that you can travel. Which direction you want your career to take should have the strongest influence on what bootcamps you subscribe to.
As an example, a person who's aiming for a career in machine learning wouldn't benefit much from taking courses on business intelligence. Similarly, someone aspiring to be a software engineer may not gain anything relevant to their goal if they take core analytics courses.
To that end, it's often best that you clearly define where you want to go. That will help productively guide your future decisions.
Your Current Skill Level
Data analytics bootcamps are usually designed to impart certain specific in-demand data skills to students. This means there are different courses and programs for different career stages.
For instance, the bootcamp you sign on for when you're looking for your first job in tech would be vastly different from what you'd sign on for if you want to get the qualification to land a senior management role.
The materials and exercises you'll be exposed to in either case would vary significantly.
You have to make sure that you sign up for bootcamps that match your current skill level. Otherwise, you might not get any substantial dividends from taking the program.
The Time Commitment Involved
This is one variable that many students don't usually give enough attention to until it's too late. Taking the time to select a bootcamp style program that fits into your schedule beforehand can shape your experience tremendously.
Typically, you have two options in this regard.
Full-Time Immersive Programs
With these types of bootcamps, you'll spend no less than 25 hours per week completing the course on schedule. The longest of these programs typically doesn't run for more than 6 months.
This is okay if you don't have a full-time job or other significant responsibilities. However, trying to juggle such programs when you have a demanding job and/or other personal obligations can quickly become very stressful.
Part-Time or Flexible Programs
Just like the name suggests, bootcamps in this category are more liberal with how much time you have to put in. These programs can span from 3 months to an entire year.
These kinds of packages are ideal for individuals with a lot on their plate as they strive to minimize time-management woes. 
Consider both options carefully and choose which program suits your lifestyle best.
The Cost of the Program
If you haven't already realized it yet, data analytics bootcamps can be very pricey. The most expensive programs can command several thousand U.S. dollars. What's more, these prices trend upwards quite frequently.
As such, the price of one program in January may very likely be different in June.
Many course providers attempt to compensate for this by affording an auditor a flexible payment option or payment plan. Some might even opt to defer the payment of the tuition till the student has secured a job.
In any event, ensure that you're intimately familiar with the payment protocol and that you're comfortable with it. Additionally, you should keep an eye out for offers that allow you to pay less for these bootcamps. Naturally, the more costs you can cut here, the better off you are.
FAQs
Are Data Analytics Boot Camps Worth the Cost?
Yes, data analytics boot camps are worth the cost. While it's true that you can pick up the needed professional skills even without these resources, these programs help you fast-track the process significantly and further polish your skills.
In addition, as they leverage only the latest array of technologies and methodologies, these programs ensure that most of the lessons and skills you learn from them are not only relevant but also in high demand.
Are Data Analytics Categories All the Same?
No, data analytics categories aren't all the same. Broadly speaking, they are divided into two groups. These are known as descriptive analysis and predictive modeling.
Descriptive analysis is a tool commonly used in spaces like market research, while predictive modeling is employed with resources like historic stock trends to predict future outcomes.
Do Data Analytics Boot Camps Really Help People Get Jobs in Tech?
Yes, data analytics boot camps really do help people get jobs in tech. These programs provide you with most of the skills you need to be successful in this industry.
However, more and more bootcamps are going a step further by affording auditors job guarantees, career coaching, and even assistance with preparing their resumes.
Conclusion
There are hundreds of data analytics bootcamps that you can sign up for. We've highlighted a few of the best ones in our guide. Before you settle for one, make sure that it contains materials relevant to the career you're pursuing.
Also, ensure that you'll be able to meet the time commitment and are comfortable with the tuition costs and payment structure.
Have fun!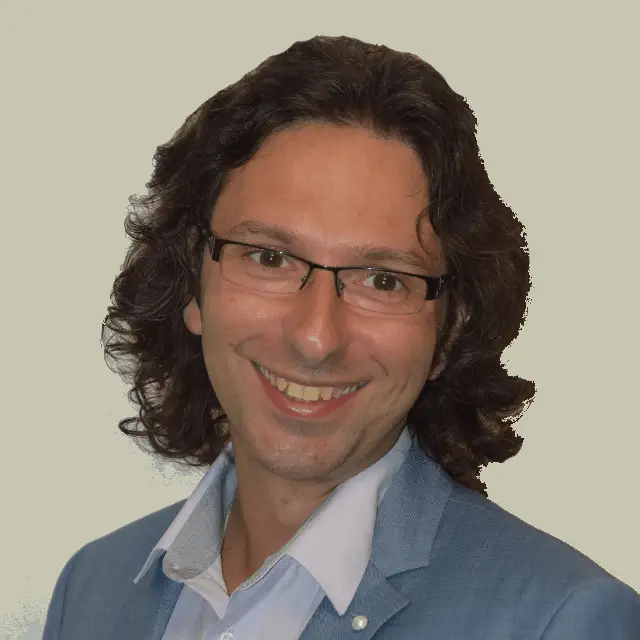 Claudio Sabato is an IT expert with over 15 years of professional experience in Python programming, Linux Systems Administration, Bash programming, and IT Systems Design.
With a Master's degree in Computer Science, he has a strong foundation in Software Engineering and a passion for Robotics with projects that include Raspberry Pi and Arduino platforms.